"For I am the Lord your God who takes hold of your right hand and says to you, do not fear:  I will help you." Isaiah 41:13 
When Buz and I found out we were expecting our second child we were thrilled. We had a four year old girl whom we adored and couldn't wait for her new brother to arrive.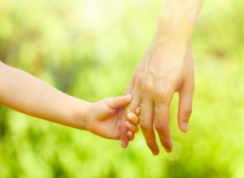 Four weeks into the pregnancy there were complications and my mother drove 12 hours from Ohio to come pick me up in New Jersey and take me home with her to care for me over the next four months. Our daughter Jessica was devastated to leave her daddy.
Buz stayed in New Jersey to work and his first opportunity to visit was four weeks later. When Buz arrived in Ohio for a visit our daughter Jessica was elated. She was a daddy's girl. She wouldn't let him out of her sight. She sat in his lap at dinner and stood next to him while he brushed his teeth as he got ready for bed.
That night Buz and I went to sleep in a double bed and made a bed for Jessica on the floor next to us. At 2am, I felt a little hand touch my shoulder. This tiny little trembling voice asked me, "Is my daddy still there?" I reassured her that even though it was dark and she couldn't see him, he was indeed still there with us. With that confirmation she settled into a peaceful sleep knowing her daddy was watching over her.
Life sometimes brings us a dark night. We cry out to God and ask, "Are you still there God, I can't see you". Remember, He's there. He promises, not to leave us or forsake us even in our darkest night. Isaiah 41:13 tells us: "For I am the Lord your God who takes hold of your right hand and says to you, do not fear: I will help you." God will walk us through those dark nights of fear, suffering, anxiety, grief etc. Deuteronomy 31:8 The LORD himself goes before you and will be with you, he will never leave you nor forsake you. Do not be afraid; do not be discouraged.
Just as this little child reached up for her daddy's hand in the darkness, you too can reach up to heaven and grab hold of God's hand. He will comfort you in your darkest night.
Karen Offenbacker 
August 3, 2017