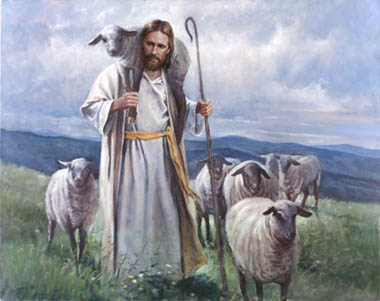 I'm sure you have heard or read Psalm 23 many times in your lifetime. It is one of the most popular scriptures and is often read at funerals. It's often quoted in times of trouble, trials and tribulations, especially verse 4: "Yea, though I walk through the valley of the shadow of death, I will fear no evil; For You are with me; Your rod and Your staff, they comfort me."
But, what does this Psalm really mean in light of Christ as our Good Shepherd? What truths can we hold onto from Psalm 23?
I have been blessed during this quarantine time with a study by Matt Chandler on Psalm 23 and it was a timely blessing. I will share the main points from this study with you in this devotional and I pray it ministers to you during this trial. The entire study is available on RightNow Media.
Verse 1: "The LORD is my shepherd; I shall not want."
What does that mean? When the Lord is our shepherd, we lack nothing of what we truly need in life. Therefore, we know that every shepherd other than God is a thief who cannot deliver on the longings of our hearts. We can also be comforted by the gracious provision of God regardless of the circumstances in which we find ourselves in this world. When Christ is our Good Shepherd (John 10) we find our needs met in him and him alone.
Verse 2: " He makes me to lie down in green pastures; He leads me beside the still waters."
When the Lord is our shepherd, he leads us into perpetual rest for the restoration of our souls. The Lord wants us to understand that all promises of rest apart from Him are ultimately empty. When we rest in Him, we feel a tangible sense of rest from the chaos of life. Christ as my Good Shepherd leads me to green pasture and rest.
Verse 3: "He restores my soul; He leads me in the paths of righteousness For His name's sake."
When the Lord is our shepherd, we receive the righteousness of Christ as a free gift that he extends to us for the glory of His name. Thus, we believe that God has counted us righteous not because of our obedience, but because of the obedience of Christ. That allows us to feel free from the need to earn God's acceptance through our good works. Christ restores us through His obedience on the cross, our obedience and our works can't restore us or make us righteous.
Verse 4: "Yea, though I walk through the valley of the shadow of death, I will fear no evil; For You are with me; Your rod and Your staff, they comfort me."
In verse 4, God is telling us our hope in times of darkness is found in His presence, not the resolution of our circumstances.He wants us to understand that He is present with us as we walk through times of suffering. Furthermore, we should reject any fears we have about suffering while in this world, knowing that our true hope is in God and His comfort. The darkest valleys in our lives can't outshine the comfort and love that come from The Son.
Verse 5: " You prepare a table before me in the presence of my enemies; You anoint my head with oil; My cup runs over. "
God tells us in verse 5 that He doesn't just accept those who surrender their lives to Christ, but that he delights in them as children adopted into His family. What a relief it is to know that God is pleased with us based on the perfect righteousness of Christ and not our own righteousness, which would surely fall short. It is interesting to note that in ancient Israel anointing someone with oil is a sign of friendship or that you are being honored. God honors us and not only calls us friend, but family, because of the redemptive blood of Christ. As our Good Shepherd, Christ supplies all of our needs to the point of overflowing.
Verse 6: "Surely goodness and mercy shall follow me All the days of my life; And I will dwell in the house of the LORD Forever."
The greatest hope of our Christian faith is to dwell with God forever, and that is a promise for those who belong to his family. God wants us to know that even in difficult days, God is giving us his goodness and mercy. Ultimately, God wants us to pursue His presence as the solution to our longings rather than freedom from our temporary circumstances.
David wrote this psalm about God in terms of being our shepherd. David was a shepherd and understood the protection, provision and leading of a shepherd over his flock. He wrote this way before Christ came, but it is still about him. Christ is our Good Shepherd, he is our provision, our rest , our righteousness, our comfort , our family and our eternity. John 10:11 "I am the good shepherd. The good shepherd gives His life for the sheep."
Psalm 23 is even more true today than it was in David's time because we have the Good Shepherd taking care of us. How blessed we are to know that this old testament Psalm comes to life in the new testament in the love of Jesus Christ.
~ Mark T.