Buz and I were newlyweds. We were just getting to know each other. Mom and dad moved out of their 200-year-old plantation house and Buz and I moved in while it was up for sale.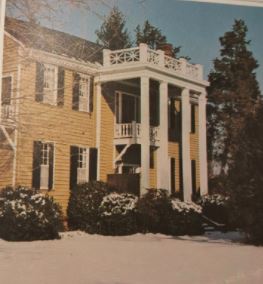 This old house had its issues. The old coal furnace would go out in the middle of the night. When we would come home in the evenings or if we had been away for the weekend, we would drive down this old tree lined lane and Buz would say, "The house looks cold". Buz got so he could tell when we started down the long lane and looked at the old house if the furnace was out. I would laugh at him, but he had a pretty good record on 'seeing the cold'.
That winter Buz had several opportunities to 'see the cold'. The pipes froze, trees went down in ice storms, and we once had a skating rink in the kitchen. Buz would know it before I opened the door.
When our son Nathan was born, he was sick. I could be in a deep sleep and still hear him breathing. A wrecking ball could knock down a building next to us and I wouldn't hear it, but that small, frail cry of a sick little boy could wake me instantly!
We somehow sensitize ourselves to those things that are important to us, those areas of responsibility where we feel we dare not fail.
My prayer is to be so sensitized to those around me that I will be able to "feel the cold' in the hearts and eyes and hear the cries for help from those around me. For I believe that Jesus gives each of us the people that we are responsible for bringing into his presence. He gives us those in need so they can see Jesus in us.
And may the Lord make your love to grow and overflow to each other and too everyone else, just as our love does toward you. I Thessalonians 3:12 
We have a responsibility to love those around us, to see the coldness of their hearts, their cries of help, and to minister them. This is what makes us the family of God.
~ Karen O.