A Night To Shine
Sponsored By The Tim Tebow Foundation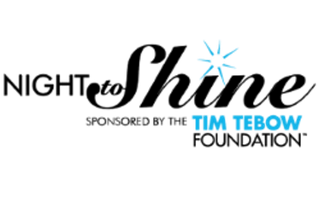 Calvary Chapel Gloucester County is pleased to announce that we will be hosting Night to Shine this year on February 11,2022! 
Night to Shine 2022 will be an amazing Shine Thru Parade and Virtual Celebration. As you may have joined or seen from NTS 2021, a Shine Thru Parade is a drive thru version of Night to Shine! Guests will get to drive down the red carpet, enjoy music, dancing, opportunities to have their picture taken, see beautiful decorations, special guests and more. Following the Shine Thru Parade, guests will head home and be able to join other honored guests around the world for an unforgettable Night to Shine Virtual Celebration. Though nothing can take the place of spending time with our guests fully in-person, we are so excited that we are still able to celebrate them on Friday, February 11, 2022. We are thrilled to serve and celebrate as many people with special needs as possible in this new and unique way.
The event will take place on Friday, February 11th, 2022, in the Calvary Chapel Parking Lot.
The drive thru will take place between 5pm and 7pm. Guests will receive a specific time slot to arrive after registering.
The virtual event will go LIVE! at 7pm. Guests will receive the link during the drive thru portion. 
Our team is beyond excited to celebrate YOU at Night to Shine 2022. Our Guest Registration is now closed. Please call the church office if you have specific questions about the Night to Shine guests.
Please pray about volunteering. While the evening will be scaled back to a degree, we won't be able to hold it without volunteers like you! We are in need of A LOT of paparazzi to make this drive-thru a success. Please be sharing with others to come on out to cheer and make our guests see the love we have for them!! Our Volunteer Registration is now closed. Please call the church office if you have specific questions relating to the Night to Shine volunteers. Thank you!