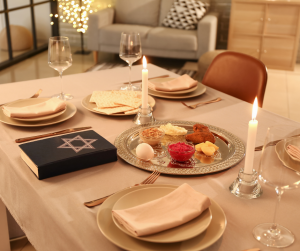 The Messiah in the Passover presentation is a powerful visual message not only of Israel's freedom from slavery in Egypt, but of the redemption of individuals from the bondage of sin through the atoning work of Jesus. The program is designed to give participants a deeper understanding both of Passover and of the Communion table.
Join us on Sunday, April 10th at 5pm in the Fellowship Hall to partake in the Seder meal as a church family. There will be limited space for seating so buying a ticket is required to reserve a spot to join in the meal.
Tickets are $5 each and will be on sale in the church lobby starting March 16th. We ask that children be 13 years and older to attend with parent supervision. 
Derek Blumenthal from Chosen People Ministries will be guiding us through the Seder Dinner.